Pediatric Gynecology as a Critical Component of Surgical and Non-Surgical DSD Care
Written by Dr. Heather Applebaum Monday, 27 February 2012 09:55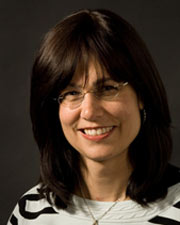 We asked Dr. Heather Applebaum, the pediatric gynecologist who coordinates the DSD team at Northshore-LIJ and The Steven adn Alexandra Cohen Children's Medical Center of New York, to explain here why pediatric gynecology represents a critical component of surgical and non-surgical DSD care. 
At Northshore-LIJ and The Steven and Alexandra Cohen Children's Medical Center of New York, on Long Island, we have a dedicated Disorders of Sex Development (DSD) Program. Our team includes an endocrinologist, two urologists, a pediatric general surgeon, a geneticist, a psychiatrist, two social workers, and myself, a pediatric gynecologist.
A gynecologist who specializes in pediatrics is an essential component of the multi-disciplinary DSD team. Individuals who are born with a DSD and are sex-assigned as female deserve a gynecologist who is sensitive to the unique circumstances of these patients. A pediatric gynecologist has a complete understanding of the anatomical and psychosocial complexities of patients with DSD and therefore has the expertise to be able to address the needs of these children as they transition from infancy to childhood, childhood to adolescence, and adolescence into adulthood. A pediatric gynecologist has the appropriate perspective on how to guide these children and their parents through the stages of a girl's life, particularly with respect to how her disorder might affect her pubertal development, future sexual functioning, fertility, reproduction, and sense of self.
Pediatric gynecologists are surgeons, but we also offer non-surgical interventions to our patients. For example, if a girl is born with vaginal agenesis (where the vagina has not formed in the normal fashion, perhaps because the girl has MRKH, AIS, or a cloacal malformation), a neovagina can be created with mechanical dilation or with a surgical graft. Regardless of the approach employed, such girls should be treated by a gynecologist with expertise in vaginal reconstruction. A pediatric gynecologist is the best person to counsel these girls because she can provide the most comprehensive overview of the short-term and long-term risks and benefits of mechanical dilation versus surgical intervention.
In terms of treatment, we have a dilation program where patient technique and progress are closely monitored.   When surgery is indicated, we offer a minimally invasive approach to the creation of a neovagina using the Vecchietti technique. Depending on the individual needs of the patient, graft vaginoplasty (building a vagina using tissue from other parts of the body) may be more appropriate. Regardless of whether we recommend conservative, non-surgical management, or a surgical intervention, in our program each patient is treated individually and is carefully followed to ensure long-term success. Even after treatment is anatomically successful, we continue to provide medical and social services to promote a smooth transition from medical care to adequate sexual functioning and social well-being.
Tracy Schachter, one of the social workers on our team, has previously written about how our team focuses on the whole person. I would just reiterate that: The primary focus of our team is to provide comprehensive care to our patients with particular attention to their medical condition; while at the same time optimizing their psychosocial well-being. When we offer surgical intervention, we do so to maximize anatomical functioning. We treat each case individually and make recommendations that also consider genetics, medical history, psychosocial needs, and reproductive potential within the context of family values, religion, and culture. Our ultimate goal is to create a sensitive balance of autonomy for the patient with respect to cosmetic and functional repair.