Benefitting from a Genetic Counselor: The UCLA Experience
Written by Eric Vilain, MD, PhD Wednesday, 22 June 2011 13:05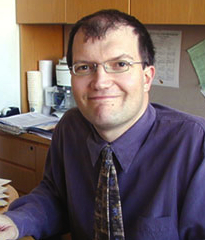 At UCLA Children's Health Center, I specialize in the care of children of children with Disorders of Sex Development (DSD). Although my specialties include Clinical Genetics and I am board-certified in Clinical Biochemical Genetics and Clinical Genetics, I have found it absolutely invaluable to have a genetic counselor available to our DSD patients, and I would highly recommend that all DSD teams have a designated genetic counselor.
Our genetic counselor, Michelle Fox, collaborates with us on all cases of DSD. We don't just call her in for special circumstances, because we find that Michelle dramatically improves care for DSD families across all the diagnoses.
I think of the genetic counselor as a "nurse of life." Part of what the genetic counselor does is very technical; she tracks the complex information accrued during medical history-taking and diagnostic testing, and helps to convey information in a comprehensible fashion to families. But perhaps more importantly, the genetic counselor is a continuous presence specifically focused on the many needs of the family.
The doctors see the patient and family relatively briefly during clinic visits, but there is a lot of "behind the scenes" work orchestrated by the genetic counselor. Often, before a family even comes in, the genetic counselor will have long phone conversations with the family, so that the family understands what will happen during the visit and arrives prepared. This also ensures that the team will be well prepared with appropriate information when the family arrives.
After the clinic visit, there are often many more conversations, some hand-holding, and more education. Often families need to hear the same information over and over to really understand it, and the genetic counselor has the skills, patience, and designated time to do that reiterative education.
Since they are specifically trained in counseling, genetic counselors are well suited to help families with the anxiety that often presents before or after scheduled clinic visits. Genetic counselors are also expert at helping patients with the inevitable points of uncertainty that come with these diagnoses. With new genetic technologies, it is not uncommon for the information we gather to exceed our capacity to interpret it in a meaningful fashion. The genetic counselor helps the family understand that more data doesn't always mean more certainty.
Michelle does an amazing job for us helping to ground families and to put things in perspective. Because she is neither an MD nor considered a "mental health" specialist, she seems to encounter fewer barriers to communication than many of us do. Numerous times I have learned details of family histories from Michelle—details that have turned out to be crucial to helping my patients. I also find that Michelle brings a special human element to the team's conversations. Sometimes we become so engrossed in our diagnostic quest—we are ready to poke, to do laparoscopies and biopsies, order MRIs—and we lose track of the patient. Michelle brings us back to the patient.
My only point of frustration in having a genetic counselor working with us lies in trying to get appropriate reimbursement for her services. It is not yet the case that insurance companies recognize the critical nature of genetic counseling to DSD care, so they will typically not reimburse for those services. This is clearly something those of us who are specialists in DSD need to work on, along with the support groups. Our clinic has tried to provide reimbursement from profits of our divisions, but this is always a challenging endeavor. At least now in California there is a billing code for genetic counseling, and we've started to use that, but it remains to be seen how well this will work for our DSD families.
Regardless, we will do whatever we have to do to keep a genetic counselor on our DSD team at UCLA because we recognize that the genetic counselor is absolutely critical to high-quality, patient-centered care.