Accord Alliance Blog
The most recent articles appear at the top. For older articles, use the title links or navigation buttons further down.
For this post, we asked Tracy Schachter, LMSW, to tell Accord Alliance's readers about the DSD team at Long Island Jewish Hospital/Steven Alexandra Cohen's Children Medical Center. Tracy describes here the make-up of the team, the team's approach, and her role as the social worker. 
I'm excited to have recently become the social worker on the DSD team at Long Island Jewish Hospital/Steven Alexandra Cohen's Children's Medical Center. Our active and well-integrated DSD team is expertly coordinated by Heather Appelbaum, MD, Program Director/Pediatric and Adolescent Gynecology. Our team includes: Phyllis Speiser, MD, Pediatric Endocrinology; Jordan Gitlin, MD, Pediatric Urology; Lane Parlmer, MD, Pediatric Urology; Nelson Rosen, MD, Pediatric Surgery; Joyce Fox, MD, Pediatric Genetics; Carmel Foley, MD, Pediatric Psychiatry; Carol Adelman, DSW, Social Work NICU; and me, Tracy Schachter, LMSW, Social Work Gynecology.
It is great to work with physicians and nurses who value the social work perspective – a perspective that takes into consideration what patients and families need before and after they walk through the door. We are concerned about how patients are doing as individuals and how they are doing within relationships and within their social networks. We are dealing with uncertainty, anxiety, shame, grief, love, and growth.
As the social worker on the team, my role is to conduct psychosocial assessments that encompass religion, ethnicity, and environment. I work on developing a rapport with families that will ultimately lead to sharing their confusion and concerns. With parents of small children, I try to help address anxieties about diagnoses, interventions, and prognoses. With affected teens, I do a lot of active listening and offering support, with a focus on body image and providing the coping tools necessary for them to feel good about themselves. When our patients are young adults, decision-making is really in their hands. I try to offer direct support; I find out where they are in terms of their physical and mental growth, and provide them assistance with planning for today and for the future.
It is especially satisfying to work with a team that recognizes that sometimes an immediate surgical "fix" is not always the best long-term option. Our team takes seriously options like pressure dilation for vaginal expansion, a non-surgical option. We work to try and make sure patients leave our clinic feeling good about themselves, their bodies, and their lives.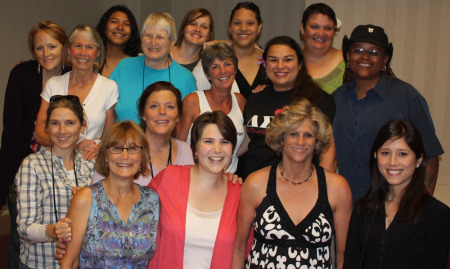 We asked Jeanne Nollman, the President of the AIS-DSD Support Group for Women and Families (formerly the AIS Support Group), to provide this news to Accord Alliance's readers about the group's 2011 conference. Jeanne is very active in the DSD world and is engaged in many exciting outreach projects. She has been helping to develop support for families at UCSF and Stanford University and has been doing major educational outreach, including through DSD Discourse, and most recently with foster care agencies whose clients include children with DSD. (The photo at left is from the meeting. Jeanne is in the front row, second from right, and Accord Alliance's Janet Green is in the center of the picture.)
As readers of the Accord Alliance blog may already know, this year the AIS Support Group in the United States changed its name to better reflect who we are and who we serve. In July, we met in Seattle for the first time under our new name: the AIS-DSD Support Group for Women and Families. The meeting was a smashing success. Over 140 people, including affected individuals—adults, teens, and children—and their family members joined us for four days of support, education, and fun.
About a third of those attending were first-timers, and nearly half were parents of affected children. We're thrilled to see that our organization is increasingly providing support for whole families. We also saw an increase in the number of husbands attending with their DSD-affected wives, continuing on the AISSG tradition of partnership attendance. Participants came from South Africa, Argentina, Australia, Japan, China, the U.K., Canada, and all over the United States.
Many of our attendees were interested in working on advocacy, so we have been forming multiple committees dedicated to that work. For example, a group of our parents are now working to develop a new brochure for us—material that can be made easily available in doctors' offices—and are preparing letters for schools to make them aware of the existence of and needs of DSD-affected children. Adoption was also a big issue this year for affected women interested in becoming mothers through adoption. I'm happy to report that, just since our conference, one of our members has adopted a child, and another adoption is in progress. One of the women with Swyer's in our group also gave birth recently.
Our program this year included a full day of CME (Continuing Medical Education) for clinicians, and there was not an empty seat in the house! This happened in conjunction with Seattle Children's Hospital, where our own Jane Goto has been an integral member of the DSD team. The highlight of our CME program appears to have been the panel of our own members. The panel lasted about an hour and a half, and many clinicians in attendance named it as an outstanding educational opportunity. Affected women and teens and teens' mothers talked about their own experiences, including the importance of compassionate and honest disclosure of diagnoses.